Volo Auto Museum to Boast Rare Miami Vice "Ferrari"
The Auto Channel (10.25.06)

The driver's side seat is positively shriveled. Dust is caked on its once famously gleaming exterior.

But the Ferrari Daytona Spyder custom built for the hugely popular '80s "Miami Vice" television series soon will be restored to its former splendor. The car Don Johnson drove as Det. James "Sonny" Crockett will be a polished and especially prized piece of Volo Auto Museum's remarkable collection of more than 300 collector and Hollywood cars.

...."This is the car that was driven throughout two years in the series," said Greg Grams, museum owner. "It was used by Don Johnson and abused by Don Johnson. They used the car up and it was left [sic] out to pasture. We got it and we're bringing it back to life."

Johnson as Crockett and Philip Michael Thomas as Det. Ricardo "Rico" Tubbs set fashion trends (think pastel suits and loafers with no socks) as they dealt with nefarious drug dealers.

Meanwhile, the Daytona Spyder Crockett drove became notorious among Ferrari aficionados and executives because the car gaining all that attention from viewers wasn't really a Ferrara, but a replica built on a Corvette chassis. With only 165 real convertible Daytona Spyders ever made, it's not difficult to comprehend the economics behind the faux car for the faux cops.

In later years, Ferrari North America provided two Testarossas to the show. But Crockett, whose cars were part of his drug-dealing cover, loved his Spyder. The public will love it, too, when it is unveiled later this year.

Volo Auto Museum, 27582 W. Volo Village Road, Volo (IL), is open daily year-round....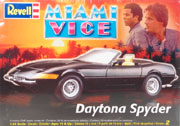 Revell produced a model of the Spyder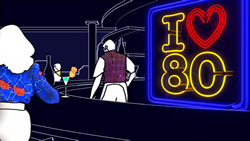 The Eighties Club is not affiliated in any way with any of the publications from which these excerpts were derived, and does not profit in any way from the purchase of the complete articles. These excerpts are provided for educational purposes only.