[NOTE: Some of the events described in a day's news may have occurred on the previous day.]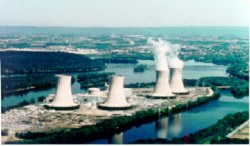 Three Mile Island nuclear plant
Friday, 1 February 1980
The six Americans who escaped Iran are guests of honor at a State Dept. reception before meeting President Carter.....FBI subpoenas at least three air traffic controllers involved in tampering with flight pattern of Soviet Aeroflot airliner.....The Olympic torch passes through Washington, DC on its way to Lake Placid.....Carter administration expresses confidence that alternate, "Olympic-style" games can be organized outside the USSR this summer.....A meeting of Olympic Committee members from various nations takes place today in Frankfurt, W. Germany.....Japan, China and Zaire say they will boycott Summer Games.....Military judge at Camp Lejeune recommends court-martial of Marine Pfc Robert Garwood for collaborating with enemy during Vietnam War.....Chrysler workers reportedly approve renegotiated contract with UAW.....Cuban refugees arrive in Miami aboard a hijacked barge.....Amid calls for his resignation, Treasury Secretary William Miller denies knowledge of payoffs to officials for overseas sales while he headed Textron Corp.
Saturday, 2 February 1980
Riot at state prison in Sante Fe, NM ends after assault by police and National Guard.....Chief Justice Warren Burger criticizes long criminal appeals process in address to American Bar Association annual convention.....Eight congressmen said to be under investigation as result of a two-year FBI operation named Abscam; politicians allegedly accepting bribes from undercover agents include Sen. Harrison Williams, Reps. John Jenrette, Rich Kelly, Raymond Lederer, John Murphy, John Murtha, Michael Myers and Frank Thompson, Jr......National Security Adviser Zbigniew Brzezinski tours Afghanistan-Pakistan border and concludes meetings with Pakistan President Mohammad Zia ul-Haq; no final agreement on military aid is reached.....In Rhodesia, 13 supporters of Bishop Abel Muzorewa are slain when their bus is struck by rocket and small arms fire.....In El Paso, TX, Barry Chvarak is charged with five homicides.....Bo Derek's "corn-row" hairstyle in film "10" is said to be all the rage.....Muhammad Ali reportedly having second thoughts about campaigning in African nations for an Olympic boycott.....In sports, the East beats the West in NBA All-Star Game while heavyweight champ Larry Holmes has TKO victory over Italian challenger Lorenzo Zanon.
Sunday, 3 February 1980
Story breaks in London Times about secret government break-ins of hotel rooms of delegates to Rhodesian peace conference.....Number of killings during New Mexico prison uprising still undetermined.....FTC issues fire hazard warning for wood-burning stoves sold by Montgomery Ward.....National Security Adviser Brzezinski tours Afghan refugee camp in Pakistan today.....Republican presidential hopeful George Bush wins a Maryland straw vote.....Conair reportedly developing a "ribbon railroad" superior to the traditional line.....Controversy erupts over picking a state vegetable for Tennessee.
Monday, 4 February 1980
Justice Dept. criticizes media for exposing details of the FBI Abscam sting operation.....32 prisoners found murdered in wake of New Mexico prison riot, 7 others dead of drug overdose; prison warden blames uprising (the worst prison riot in U.S. penal history) on overcrowding and understaffing.....Studio 54 owners Rubell and Schrager enjoy big farewell bash before surrendering authorities to begin 3 1/2 year prison sentences for tax evasion.....In Iran, Abolhassan Bani-Sadr is sworn in as president.....First Lady Rosalynn Carter meeting with families of hostages held in Iran.....A court orders striking Chicago teachers to return to their classrooms.....Energy Dept. announces emergency fuel conservation plan in the event of an oil shortage.....The French embassy in Libya is target of attackers protesting French support of Tunisia; France recalls its diplomats and orders Libyan officials to leave.....Emanuel Ungaro is said to be the star of this Paris fashion season.....Kenneth MacDonald resigns from New Jersey Gambling Casino Control Board after FBI charges him with accepting a bribe.....Andrew Young visits Tehran in company of PLO representatives from Beirut.....In Africa, Muhammad Ali advocates Olympic boycott.
Tuesday, 5 February 1980
Attorney General Benjamin Civiletti defends FBI methods in Abscam operation against complaints of entrapment.....Syrian troop withdrawal from parts of Lebanon raises concerns of renewed fighting between Christians and Moslems.....Saudi Arabia agrees to increase aid to Pakistan as part of package sponsored by U.S......Egyptian parliament ends boycott of Israel.....Soviet leader Leonid Brezhnev calls for renewed commitment to detente.....Chancellor Helmut Schmidt of W. Germany and French President Giscard d'Estaing condemn Soviet invasion of Afghanistan.....Members of the Popular League seize Spanish embassy in San Salvador; siege ends Feb. 18 when government releases 11 Popular League prisoners..... State Dept. concludes that Cambodia, North Korea and Vietnam are the worst human rights violators.....Justice Dept. decides not to name a special prosecutor to investigate Treasury Secretary Miller's involvement in Textron Corp.'s payoffs to foreign officials.....Sen. Edward Kennedy challenges President Carter to debate, suggests the president is using Iranian hostage situation as an excuse not to.....A reporter publishes account of how easily he breached security at Three Mile Island nuclear plant.....An avalanche buries the Italian alpine village of Cervinia.