Monday, 1 Match 1982
College students demonstrate in Washington DC to protest cutbacks in school loans.....Teamsters ratify new compromise contract with trucking industry.....Environmental Protection Agency lifts ban on burial of containerized liquid waste..... China officially criticizes President Reagan's Taiwan policy.....Polish leader Gen. Wojciech Jaruzelski arrives in Moscow to meet with Soviet President Leonid Brezhnev.....USSR probe lands on Venus..... Defense Secretary announces redesign of Abrams M-1 tank will go forward..... Atlanta's public safety director says task force investigating recent child murders will disband due to conviction of Wayne Williams.....National Transportation Safety Board launches public hearing into recent crash of Air Florida jet into Potomac River ..... Hillside Strangler murder trial of Angelo Buono begins in Los Angeles; prosecution's chief witness is Buono's cousin, Ken Bianchi.....Puerto Rican nationalist group FALN responsible for bombings that occur in New York City.....PLO leader Yasser Arafat agrees to honor ceasefire with Israel in southern Lebanon.....Scandal erupts in Spain over poisoned cooking oil.....Sen. Robert Packwood expresses concern that Reagan is alienating minorities from Republican Party.
Tuesday, 2 March 1982
Secretary of State Alexander Haig claims leftist guerrillas in El Salvador controlled by external forces (Cuba, USSR, Nicaragua)..... On trip through the west, Reagan says he will not abandon economic policy, will accept budget deficits if necessary.....Supreme Court hears case involving banning of books from school libraries.....Unidentified body of man retrieved from Boston Harbor thought to be of one of two passengers still missing from January crash of World Airways jetliner.....Joint communique from USSR and Poland expresses commitment to martial law in latter country ..... In Israel, Prime Minister Menachem Begin survives no-confidence vote in Knesset.....British National Oil Corporation says it will cut price on North Sea oil; Mexico and Venezuela also cut oil prices ..... Braniff gives employees half-pay due to company's financial crisis; Continental also trying to avoid bankruptcy.....Catholic priest based in UN accused of smuggling Italian art treasures ..... Sen. Robert Packwood apologizes for questioning competence of President Reagan.....Social Security commissioner announces plan to modernize antiquated computer system.....Senate passes anti-busing legislation.
Wednesday, 3 March 1982
Senate begins deliberation on expulsion of Sen. Harrison Williams, convicted of bribery (Abscam) ..... Israel begins removing squatters from Sinai in preparation of handing area back to Egypt ..... French President Francois Mitterand on state visit to Israel.....In Paris, physicians strike to protest policies of health ministry.....Mass escape of convicts occurs when rebels attack prison in Lima, Peru.....Nuclear Regulatory Agency tells Congress more accidents at nuclear power plants expected.....Polish martial law government advises Solidarity dissidents to apply for exit visas ..... U.S. negotiating with Latin American countries for establishing military air bases in region.....Toxic shock syndrome cases against Proctor & Gamble begin in Denver, CO.....Western, Pan Am and Republic airlines give employees reduced pay to avoid layoffs.
Thursday, 4 March 1982
Nicaraguan official presents evidence of alleged CIA atrocities in his country on Capital Hill; Secretary of State Alexander Haig warns of "domino theory" taking effect in Latin America if Nicaragua remains Marxist.....French President Francois Mitterand calls for a Palestinian state in address to Israeli Knesset.....Iran selling art treasures and royal jewelry once belonging to family of Shah in order to finance war with Iraq.....Winter storm hits the Midwest.....FCC approves low-power television stations .....Coalition for Better Television launches boycott of NBC and parent company RCA.....President Reagan selects Gen. John Vessey, Jr. to replace Gen. David Jones as chairman of Joint Chiefs..... Delegation of U.S. representatives arrives in Poland to discuss humanitarian issues with martial law regime.....Spokesman for medical societies denounces Reagan administration policy on contraceptives to minors.....GM closes Oldsmobile plant in Fremont, CA.....Group of congressmen ask Reagan to accept Mexican offer to mediate conflict in El Salvador.....NASA sending U2 planes to investigate mysterious cloud circling Earth.....Author John Toland claims President Franklin D.Roosevelt knew of Japanese plans to strike Pearl Harbor five days before attack took place.
Friday, 5 March 1982
Death of comic/actor John Belushi reported.....Reagan administration refuses to release evidence to back claim that Cubans and Nicaraguans are actively involved with El Salvador's leftist guerrillas; Secretary of State Alexander Haig says recent capture of Nicaraguan soldier in El Salvador is proof..... Leftist guerrillas kidnap Guatemalan newspaper publisher; violence related to upcoming national elections reported in Guatemala.....International terrorist Illich Ramirez Sanchez, known as Carlos, threatens French government.....Polish military court sentences Catholic priest for slandering Communist leaders; another priest among those arrested in connection with shooting of policeman in Warsaw.....Volcanic activity at Mt. Saint Helens reported.....In Newport, RI, defense makes closing arguments in Claus von Bulow trial.....Second Soviet space module lands on Venus.

John Belushi
Saturday, 6 March 1982
Sen. Robert Byrd introducing legislation to prohibit President Reagan from sending troops to El Salvador without okay from Congress.....Secretary of State Alexander Haig and Mexican Foreign Minister Jorge Castaneda said to be making progress in discussion on Mexico's proposal to end Salvadoran civil war.....Coroner describes autopsy inconclusive in establishing cause of death for actor John Belushi.....In Cairo, Egypt, assassins of Anwar Sadat are sentenced.....General Accounting Office reports drinking water in many U.S. communities is unsafe.....In Poland, Lech Walesa reportedly released temporarily from internment; Kremlin advises Gen.Wojciech Jaruzelski to forbid Pope John Paul II from visiting Poland.....U2 spy plane said to have observed mysterious cloud circling Earth.....Gallup poll in Newsweek shows American public willing to postpone tax cut in exchange for balancing budget.
Sunday, 7 March 1982
Evidence from El Salvador suggests government troops massacred large number of people in January.....NATO military exercise in Caribbean said to be a message to Cuba.....Explosion reported aboard an oil tanker Golden Dolphin, which sinks, near Bermuda.....Israeli Defense Minister Ariel Sharon denies Israel is intending invasion of southern Lebanon.....OMB Director David Stockman predicts larger-than-expected budget deficit for 1983.....New York Times claims CIA is funding Iranian exiles.....Sources say White House has decided against use of troops in El Salvador even if Marxist guerrillas seem to be winning.....Despite boycott by leftists, large turnout reported for national elections in Guatemala..... President Reagan returns to Washington from vacation at California ranch; White House announces president will address British Parliament later this year.
Monday, 8 March 1982
War intensifies in El Salvador as guerrillas and government troops clash in San Miguel and San Vicente; five Democratic congressmen introduce legislation that would halt all military aid to Salvadoran government; Amnesty International charges Salvadoran authorities with massacres and torture.....Sen. Harrison Williams continues to fight expulsion from Senate following Abscam conviction.....Chase Manhattan and other banks lower prime lending rate.....In California, consumers protest soaring utility rates.....Mysterious cloud circling Earth said to contain chemicals from volcanic eruption.....In Newport, RI, closing arguments in Claus von Bulow trial conclude.....Gen. Angel Guevera said to be probable winner in Guatemalan election; allegations of widespread election fraud made.....Trial of Red Brigade terrorists charged with kidnapping Gen. James Dozier begins in Italy.....Deputy Secretary of State Walter Stoessel claims Soviets have increased military presence in Afghanistan.
Tuesday, 9 March 1982
Administration concerned over evidence of large-scale military buildup by Nicaragua's Sandinista government.....USSR denies State Department claim that Soviets are using chemical weapons in Afghanistan.....President Reagan discusses budget battle in Capitol Hill meeting with Republican leaders.....U.S. peace envoy Philip Habib said to be making progress in convincing Israelis and Arabs to maintain ceasefire in southern Lebanon.....Funeral for John Belushi held today; possibility that Belushi's death was due to drug overdose reported by Los Angeles Times but is unconfirmed ..... Sen. Alan Cranston introduces legislation calling for censure of Sen. Harrison Williams, convicted in Abscam probe..... Reagan blames Democrats for nation's current economic woes ..... Transportation Department recommends increase in federal gasoline tax.....Explosion reported at Allied Chemical plant in Philadelphia, PA.....Alignment of planets behind the sun have some predicting world's end tomorrow.
Wednesday, 10 March 1982
Allegations surface in Washington Post that President Reagan has authorized covert operations against Nicaragua's Sandinista government.....Losing candidates in recent Guatemalan election arrested, as is an ABC news team with reporter Geraldo Rivera.....Large shipment of cocaine confiscated at Miami, FL airport..... Senate Judiciary Committee okays constitutional amendment that would ban abortions for debate and vote in full House and Senate.....Reagan administration bans oil sales from and limits exports to Libya..... Congressional group, including Ted Kennedy and Mark Hatfield, call for immediate freeze in US-USSR nuclear arms race; New Hampshire state legislature approves freeze.
Thursday, 11 March 1982
Sen. Harrison Williams announces resignation in order to avoid expulsion due to involvement in Abscam scandal.....Claus von Bulow's trial for attempted murder goes to jury in Newport, RI.....White House says President Reagan willing to compromise on budget proposals.....House subcommittee delays vote on ending U.S. aid to El Salvador until after elections in that country.....Reports are that man arrested in Mexico City may be international terrorist Carlos the Jackal.....British Labour Party opposes plan for Reagan to address joint session of Parliament..... Muammar Qadhafi calls Reagan a terrorist in response to U.S. ban on Libyan oil imports.....Anti-Catholic Protestants in England demonstrate against Pope John Paul II's upcoming visit.....U.S. to sell Trident II missile system to Britain.....UN Commission on Human Rights calls for investigation of military repression in Poland.....Memorial service for John Belushi held in New York City.....UAW and General Motors resume contract negotiations.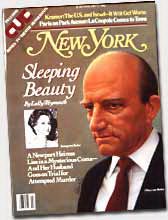 Claus von Bulow on cover of 1982 issue of New York Magazine
Friday, 12 March 1982
French President Francois Mitterand arrives in Concorde and meets with President Reagan at White House.....Asst. Secretary of State Thomas Enders says Cuba uses Colombian drug ring to funnel funds to leftist guerrillas in El Salvador.....Nicaraguan soldier captured in El Salvador reverses earlier claim that he was trained by Cuba to fight in Salvadoran civil war.....William Bonin, the Los Angeles "Freeway Murderer," is given death sentence.....European Common Market nations said to have reached agreement on scope of sanctions against Polish martial law regime.....Three-month anniversary of martial law in Poland marked by joint military maneuvers of Polish, Soviet and East German forces..... National Association of Manufacturers advocates cut in defense spending and Social Security to deal with deficits.....Senators Paul Tsongas and Christopher Dodd introduce legislation that would give Congress control over covert operations in Central America.
Saturday, 13 March 1982
Protest over U.S. involvement in El Salvador occurs in West Germany.....Army's tactical nuclear battle plan lends credence to President Reagan's controversial claim that a limited nuclear war is feasible..... Republican Tidewater Conference calls for a balanced budget by 1985.....Senior Republican senators send compromise budget plan to White House for consideration.....Air National Guard plane and civilian aircraft collide near Phoenix, AZ.....Jury in Claus von Bulow attempted murder trial still out.
Sunday, 14 March 1982
Secretary of State Alexander Haig and Mexican Foreign Minister Jorge Castaneda meet again to discuss Mexico's peace proposal for region.....Egyptian President Hosni Mubarak cancels trip to Israel after Israeli Prime Minister Menachem Begin insists he visit Jerusalem.....President Reagan to campaign in Alabama, Tennessee and Oklahoma tomorrow seeking grass roots support for his budget.....Tornadoes and flooding reported in Texas, Arkansas and elsewhere.....U.S. delegation visits European allies seeking stiffer sanctions against Eastern Bloc nations.....Attorney General William French Smith defends Reagan administration's civil rights record.
Monday, 15 March 1982
Secretary of State Alexander Haig contends that civil war in El Salvador is controlled by Nicaragua..... Sandinista leaders claim Nicaragua fears U.S. military action, and may, as a result, accept Soviet MiG jets.....In El Salvador, fighting between guerrillas and government troops reported in northern suburbs of capital..... Vice President George Bush tells Jewish group in Washington DC that the U.S. is not anti-Israel for encouraging moderate Arab cooperation in pursuit of Middle East peace.....Heavy flooding reported in Midwest.....Pentagon demonstrates new Apache attack helicopter.....In speech in Nashville, TN, President Reagan rejects idea of nuclear freeze.
Tuesday, 16 March 1982
Soviet Union proposes freeze of medium-range nuclear weapons in Europe; threatens to place missiles in Cuba if U.S. does not agree; President Reagan critical of proposal, Congress reported to be wary.....Claus von Bulow found guilty of attempted murder of his wife.....Costa Rican police seize vehicles from Nicaragua filled with weapons believed destined for leftist guerrillas in El Salvador..... Nicaraguan leader Daniel Ortega announces state of emergency due to threat of American aggression; reaction said due to recent sabotage of two bridges by anti-Sandinista forces..... 82nd Airborne dispatched as part of 12-nation peacekeeping force in Sinai, prior to Israel turning that region over to Egypt next month.....PLO accused of supplying arms to Red Brigades in Italy.....In Belgium, steel workers go on strike, clash with police.....Housing starts reported up last month, but still lower than last year.....Reagan tours areas of Midwest devastated by storms, floods and tornadoes.
Wednesday, 17 March 1982
President Reagan submits emergency aid package for Caribbean Basin.....Administration asks for funding for series of radio stations in Central America to counter Soviet and Cuban influence ..... General Accounting Office says IRS is lax in going after taxpayers who cheat on returns.....Braniff Airlines ends service to South America; Pan Am takes over routes.....Ireland's Prime Minister Charles Haughey meets with Reagan in White House..... Conservative members of British Parliament call for reinstitution of death penalty.....Severe flooding continues in Fort Wayne, IN ..... FBI reportedly foils plans by group of exiles to overthrow Haiti's government.....Health and Human Services reports link between smoking and potentially hazardous blood carbon monoxide levels.....Sen. Jesse Helms introducing legislation that would cut pay for members of Congress and top administration officials.....Senate approves legislation (Agents Identity Bill) that would make it a crime for media to disclose names of covert intelligence operatives.....Poll of Wall Street execs shows erosion of support for Reagan's economic policies.
Thursday, 18 March 1982
Deaths of Dutch news crew traveling with guerrilla force in El Salvador reported; four killed in firefight between guerrillas and government forces.....President Reagan discusses his attacks on media for its coverage of his economic policies during speech before National Association of Manufacturers, expresses disappointment in business community's lack of enthusiasm for those policies ..... Persistent rain at Edwards AFB, California forces NASA to declare White Sands, NM new landing site for space shuttle Columbia, due to be launched Monday.....Special envoy Philip Habib announces that Israel will honor ceasefire along its border with Lebanon.....Gen. James Dozier testifies at trial of his Red Brigade kidnappers.....Reagan nominates Adm. James Watkins and Gen. Charles Gabriel as Navy and Air Force chiefs of staff.....Eugene McCarthy to run for senate seat from Minnesota.....OPEC nations expected to agree to production cutback to counter world oil glut.....More rain predicted for flood-devastated northern Indiana.
Friday, 19 March 1982
Nicaraguan foreign minister claims United States is preparing to invade his country; Nicaragua seeks emergency UN Security Council session ..... OPEC meeting in Vienna characterized as filled with chaos and confusion; members decide to reduce oil production levels ..... Tornadoes reported in Texas, Oklahoma and Kansas as flooding continues in Midwest ..... Court rules against Procter & Gamble in case linking Rely tampons with toxic shock syndrome ..... Geologists predict Mount St. Helens will erupt within 24 hours ..... Anti-American demonstration occurs in Amsterdam to protest US involvement with El Salvadior, where four members of Dutch news crew were killed.
Saturday, 20 March 1982
Mount St. Helens erupts as predicted; no serious problems reported ..... 27 bodies found at crash site of Air National Guard plane at Wonder Lake, IL ..... City block destroyed as fire and explosion occur in Petersburg, VA apartment house ..... President Reagan vetoes bill that would give president power to set price controls on oil products ..... Nine Jehovah's Witnesses reportedly arrested and taken to undisclosed location in Nicaragua ..... Israeli soldiers kill Palestinian teenager during protests at El Birah on the West Bank ..... US embassy in El Salvador claims Dutch journalists may have been executed ..... Reagan declares flood-ravaged Ft. Wayne, IN a federal disaster area ..... Discovery of land mammal fossils in Antartica is said to prove it was once connected to South America.